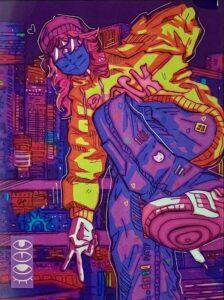 A grant from the Riedel Foundation has helped the Quincy Art Center present a show of outstanding high school artists in the region.
Though Riedel grants can only be awarded to Hannibal non-profit groups, Riedel Trustees decided an award to the Quincy Art Center was appropriate, since the group has sponsored the talent of Hannibal High School students for nearly 50 years.
The 49th Annual High School Student Art Competition had 375 pieces entered from 20 schools. One hundred pieces were chosen for the show, with 17 entries accepted from Hannibal High School. Four of those students won awards:  Brooke Bergman, junior, third place; Kameil Crane, junior, honorable mention; Tabitha Haxel, senior, honorable mention; Cheyenne Smith, senior, special recognition.